iPhone 4 Cellular Usage Stats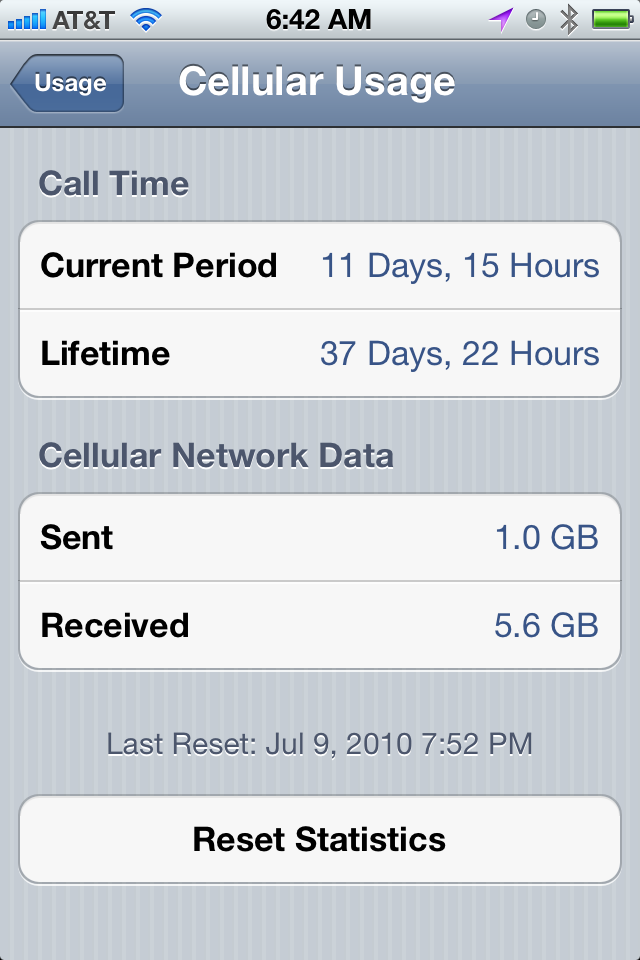 My iPhone 4's usage stats from July 9, 2010 to October 12, 2011.
I used 5.6 GB in 410 days (460 days minus 50 days spent out of the country for work), or about 13.6 MB/day. For comparison, my iPhone 3GS used 3.1 GB in 381 days, or 8.13 MB/day.
It's not quite the doubling I saw when going from 1st Gen to 3G or 3G to 3GS, something I would attribute to iOS 5, which I've been running since the early summer. I always had WiFi off prior to iOS 5, but with the new wireless syncing feature, I am using WiFi exclusively at home and at work and only dropping down to 3G when I'm not at either.
In contrast, I got my 4S Saturday morning and was out of town until Sunday afternoon. The usage counter on the 4S reads 53.4 MB, or about 25.7 MB/day.
See here for my 3GS data usage.
See here for my 3G data usage.
See here for my original iPhone data usage.